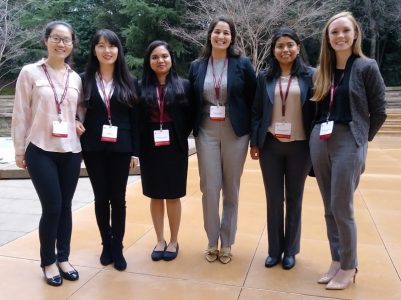 Female undergraduates, graduate and postdoctoral associates pursuing research in the clean energy sector are invited to apply for the 8th Annual U.S. C3E Poster Awards! Entrants will submit their research for an opportunity to present their work on November 13-14, 2019, at the 8th Annual U.S. C3E Women in Clean Energy Symposium at Texas A&M University in College Station, Texas.
The C3E Poster Competition is an opportunity for students and early-career researchers to participate in networking at the 8th Annual C3E Women in Clean Energy Symposium, while showcasing their work. The poster competition also exposes C3E attendees to cutting-edge research in a variety of clean energy fields.
The U.S. C3E program is a collaboration between the U.S. Department of Energy, Texas A&M Energy Institute, the MIT Energy Initiative, and Stanford Energy.
Poster presenters will have the opportunity to meet and mingle with leading female experts in clean energy at all stages in their careers, including the C3E Ambassadors and mid-career award winners for 2019 and prior years.
The presentation topic must relate to clean energy and can be in any of the following areas:
Basic Energy Science
Built Environment and Infrastructure
Climate and Environment
Developing World
Energy Education
Energy Efficiency
Fossil Energy
Nuclear Energy
Policy and Finance
Power Distribution and Energy Storage
Renewable Energy
Transportation
Innovative Business Models
Cash prizes will be offered to the most compelling posters and presentations.