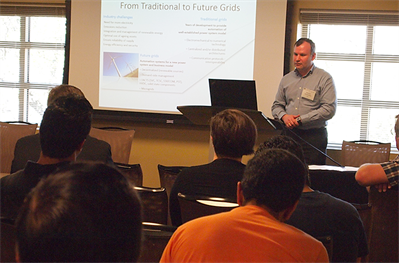 The Texas A&M Engineering Experiment Station's (TEES) Smart Grid Center hosted its third annual Smart Grid Workshop April 21 to discuss challenges in evaluating smart grid solutions including metrics, testing, certification, modeling and simulation, and testbeds.
The workshop included invited talks by Kenneth Mercado (senior vice president, CenterPoint Energy, Electric Operations) on evaluation of business cases for smart grid solutions and by Robin Podmore (president and CEO, IncSys) on the future synergy of large-scale testbeds and training simulators. Panel sessions discussed the state-of-the-art technology of existing modeling, simulating, testing and calibration facilities, and the future developments of testbeds.
Focus groups facilitated discussions on targeted themes:
Big Data, weather impacts, asset and outage management;
EMS, DMS, cybersecurity and substation automation;
Demand-side management, ancillary services and electricity markets;
Building energy management, smart meters and sensors;
Synchrophasor systems, PMUs and PDCs, and GPS;
Microgrids, EVs, distributed generation and energy storage.
The more than 110 participants included 22 faculty members, 53 students and 27 industry experts from ABB, Alstom, Austin Energy, CenterPoint Energy, ERCOT, IAI, IncSys, NI, NRG Energy, Oncor, Opal-RT, OSIsoft, Siemens and the non-profit Electric Reliability Council of Texas (ERCOT) and Southwest Research Institute (SwRI). Government agencies such as the National Institute of Standard and Technology, National Renewable Energy Laboratory, Lawrence Berkeley National Laboratory and Pacific Northwest National Laboratory were also represented. Visitors came from Qatar, China, Brazil and Chile. Cutting-edge research projects were featured in a poster session.
Prior to and following the workshop, further opportunities for enhancing partnerships with companies were explored in thematic meetings with IncSys, NRG Energy, Opal-RT, OSIsoft and PG&E.
The workshop was sponsored by TEES, the Smart Grid Center, the Office of the Vice President for Research, the Department of Electrical and Computer Engineering, and the Texas A&M Energy Institute, as well as CenterPoint Energy, National Instruments, NRG Energy, OPAL-RT and OSIsoft.