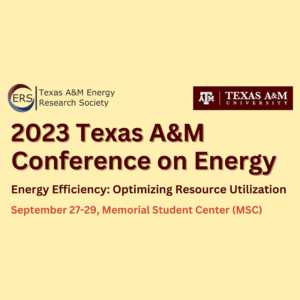 On September 27-29, 2023, Texas A&M Energy Research Society (TAMU ERS), in cooperation with the Texas A&M Energy Institute, will host the 2023 Texas A&M Conference on Energy at the Texas A&M Memorial Student Center. This year's event focuses on new and ground-breaking advancements pertaining to both the petroleum and renewable sectors of energy.
The different events within the Conference on Energy include keynote energy industry speakers along with plenary talks, poster/oral presentations, and networking sessions.
Conference Events
Presenters/Panelists
Listen to current researchers and professionals of the industry to further grow your knowledge and understanding of key ground breaking energy topics.
Plenary Session
Hear from current researchers in industry about research scope and trends in the market
Poster Sessions
Hear from current research students in regards to their work and energy related fields.
---
For more information, visit the Conference Website.