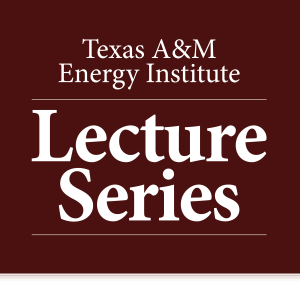 The next presentation in the Texas A&M Energy Institute Lecture Series, featuring Dr. Lefteris Iakovou, the Harvey Hubbell Professor of Industrial Distribution and the Assistant Director for Resilience and Sustainability of Integrated Energy and Manufacturing Supply Chains for the Texas A&M Energy Institute at Texas A&M University, will be held on Wednesday, February 2, 2022, from 11:00 a.m. – 12:00 p.m. CST (GMT -6:00) in the Frederick E. Giesecke Engineering Research Building (GERB) Third Floor Conference Room and through a Zoom Meeting. The topic will be "Next Generation Resilience and Sustainability of Energy & Manufacturing Supply Chain Networks."
Abstract
Recent experience during the pandemic, the Texas freeze, and the US Gulf Coast storms have revealed: (i) an overreliance on foreign sourcing, and (ii) a domestic manufacturing and energy ecosystem – where (a) domestic stockpiles of raw materials, intermediates or work-in-progress, and final products, and (b) domestic manufacturing and energy surge capacity – are insufficient to compensate for demand surge if the supply chain (SC) is disrupted is due to "novel risks," e.g., pandemics, biological threats/attacks, cyberattacks, extreme weather events, terrorist & geopolitical attacks, sabotage, great power conflict, and novel "unknown unknowns." These stresses have clearly revealed the fragility of the modern SC and require a reset in the design of manufacturing and energy supply chain networks towards cost-competitive resilience, agility, and sustainability in supply chain management research.
To this effect, we present: (i) a pragmatic and up-to-date end-to-end interdisciplinary supply chain framework for SC resilience and sustainability; (ii) tangible problems that need to be addressed; and (iii) research directions to address the new realities.
Biography
Dr. Lefteris Iakovou is the Harvey Hubbell Professor of Industrial Distribution at Texas A&M University and the Director of Manufacturing and Logistics Innovation Initiatives at the Texas A&M Engineering Experiment Station. He further serves as: (i) the Director of Supply Chain Management for the SecureAmerica Institute, a national consortium of industry and academia focusing on Resilient and Secure Manufacturing Supply Chains for the U.S.; (ii) the Assistant Director for Resilience and Sustainability of Integrated Energy and Manufacturing Supply Chains at the Texas A&M Energy Institute; and (iii) the Co-Director of the Global Value Chains Program at the Mosbacher Institute of Trade, Economics and Public Policy at the Bush School of Government and Public Service. He is also the Associate Director for Supply Chain Management and Applied Operations Research at the Texas A&M Center of Applied Technology. He has courtesy appointments as a Professor of Supply Chain Management at the Mosbacher Institute of Trade, Economics and Public Policy, and at the J. Mike Walker '66 Department of Mechanical Engineering. Finally, he serves as the Supply Chain Lead for the Texas A&M Emergency Management Advisory Group that was formed at the onset of the pandemic.
Dr. Iakovou received his Ph.D. in Operations Research and Industrial Engineering from Cornell University. Prior to joining Texas A&M, he served for eight years as the Chair of the Department of Industrial Management and then as the Chair of the School of Mechanical Engineering, at the Aristotle University of Thessaloniki, Greece. His research areas include: Supply Chain Management, Applied Operations Research, Inventory Management, Intermodal & Maritime Logistics, Agri-food Supply Chains, Resilient and Sustainable Supply Chains, Port Management, Global Logistics and Trade Facilitation, Supply Chain Strategy and Policy-Making, Manufacturing & Production Systems, Humanitarian & Emergency Response Management Logistics. He has published more than 240 papers in peer reviewed journals and conference proceedings, as well as three books and three textbooks.