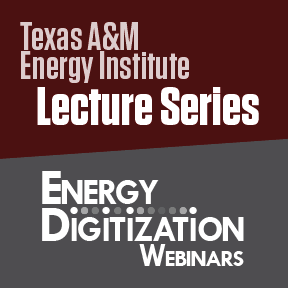 Making Cents Out of the Mess, A Wind Energy Example
The next presentation in the Texas A&M Energy Institute Lecture Series: Energy Digitization Webinars, featuring Brian Hayes, the Executive Vice President of Asset Operations at EDP Renewables North America LLC, will be held on Thursday, October 29, 2020, from 3:30 p.m. – 4:30 p.m. CDT (GMT -5:00) through an online Zoom meeting. The topic will be "Making Cents Out of the Mess, A Wind Energy Example."
Following Brian Hayes's presentation, the webinar will feature a commentary by Dr. Yu Ding, the Associate Director for Research Engagement in the Texas A&M Institute of Data Science and the Mike and Sugar Barnes Professor in the Department of Industrial and Systems Engineering at Texas A&M University. The webinar will be moderated by Dr. Le Xie, a Professor of Electrical and Computer Engineering at Texas A&M University and the Texas A&M Energy Institute's Assistant Director of Energy Digitization.
Abstract
Brian Hayes (EVP, Asset Operations), Todd Beeby (Manager, Performance Monitor), and Adi Krishna (Manager, Predictive Diagnostics) will discuss how the use of data has evolved over the last decade at EDPR as it relates to Wind Farm operations. The discussion will include an overview of the data that is collected and treated, the key business issues driving the need for advanced data analytics, and example use cases. The session will close with a discussion on the capabilities that are needed for the future in wind energy and a preview of what to expect with solar.
Biography
Brian Hayes is Executive Vice President, Asset Operations of EDP Renewables North America LLC (EDPR NA). Brian leads the Asset Management, Field Operations, Control Center, High Voltage, and Health and Safety departments, overseeing the commercial obligations, operational day-to-day activities, and performance of EDPR NA's operating wind and solar power plants.
Brian joined EDPR NA, then Horizon Wind Energy, in 2006, leading the Performance Analysis and Asset Management teams, while the company's operating fleet has grown from 500 to more than 7,000 megawatts (MW). Brian led many commercial resolutions with turbine suppliers for specific technical issues, the development of sophisticated performance analysis tools, and the implementation of many new processes to handle day-to-day operations, offtaker and investor obligations, settlements, budgeting/ P&L management activities, and safety practices and regulations (OHSAS 18000 registered). Additionally, Brian has led the transition from formerly outsourcing many operational activities to bringing many activities in-house, self-performing High Voltage and turbine work. Currently, EDPR NA self-performs maintenance on greater than 2,500 MWs.
Prior to joining EDPR NA, Brian was a management consultant at Booz & Co. for six years, focusing on various projects in the energy industry. Brian worked on both strategic and process improvement projects such as merger integration, refining strategic portfolio review, fuel pricing strategy, headquarter reorganization, and redesign of utilities procurement organization and processes. Brian holds a Bachelor of Science in industrial engineering from Texas A&M University and a Master of Business Administration from Duke University's Fuqua School of Business.
EDP Renewables North America LLC (EDPR NA) and its subsidiaries develop, construct, own, and operate wind farms and solar parks throughout North America. Headquartered in Houston, Texas, with 53 wind farms, eight solar parks, and seven regional offices across North America, EDPR NA has developed more than 7,500 megawatts (MW) and operates more than 7,200 MW of renewable energy projects. With more than 700 employees, EDPR NA's highly qualified team has a proven capacity to execute projects across the continent.