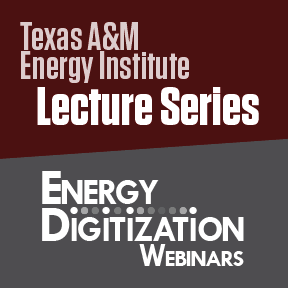 NSF Activities in AI and Data Science with Applications to Power Systems
The inaugural presentation in the Energy Institute Lecture Series: Energy Digitization Webinars will feature Dr. Anthony Kuh, a Professor of Electrical Engineering at the University of Hawai'i, as well as a Program Director in the National Science Foundation's Division of Electrical, Communications and Cyber Systems. The webinar will be held on Thursday, September 24, 2020, from 3:00 p.m. – 4:00 p.m. CDT (GMT -5:00) through an online Zoom meeting. The topic will be "NSF Activities in AI and Data Science with Applications to Power Systems."
Following Dr. Kuh's presentation, the webinar will feature a commentary by Dr. Bani Mallick, the Susan M. Arseven '75 Chair in Data Science and Computational Statistics and a University Distinguished Professor in the Department of Statistics at Texas A&M University. The webinar will be moderated by Dr. Le Xie, a Professor of Electrical and Computer Engineering at Texas A&M University and the Texas A&M Energy Institute's Assistant Director of Energy Digitization.
Abstract
AI and data science are playing increasing roles in science and engineering systems. This is especially true in engineering infrastructure systems such as the Electric Power Grid. In this talk, we discuss NSF funding efforts in both data science and power systems. This is through core programs in the Electrical, Communications, and Cyber Systems Division and also through numerous special solicitations including CPS, and NSF AI and data science initiatives. We discuss in some detail current NSF AI and data science initiatives including the National AI Research Institutes, Harnessing the Data Revolution (HDR), and the Mathematics of Deep Learning (MoDL).
Biography
Anthony Kuh received his B.S. in Electrical Engineering and Computer Science at the University of California, Berkeley in 1979, an M.S. in Electrical Engineering from Stanford University in 1980, and a Ph.D. in Electrical Engineering from Princeton University in 1987. Dr. Kuh previously worked at AT&T Bell Laboratories and has been on the faculty in Electrical Engineering at the University of Hawai'i since 1986. He is currently a Professor in the Department, serving as director of the interdisciplinary renewable energy and island sustainability (REIS) group. Previously, he served as Department Chair of Electrical Engineering.
Dr. Kuh's research is in the area of neural networks and machine learning, adaptive signal processing, sensor networks, and renewable energy and smart grid applications. In 2017, he started his service as a program director for NSF. He is in the Electrical, Communications, and Cyber Systems (ECCS) division working in the Energy, Power, Control, and Network (EPCN) group. Dr. Kuh won a National Science Foundation Presidential Young Investigator Award and is an IEEE Fellow. He was also a recipient of the Boeing A. D. Welliver Fellowship and received a Distinguished Fulbright Scholar's Award working at Imperial College in London. He currently serves on the Awards Board of the IEEE Signal Processing Society. He also currently serves on the Board of Governors of the Asia Pacific Signal and Information Processing Association as President-Elect.