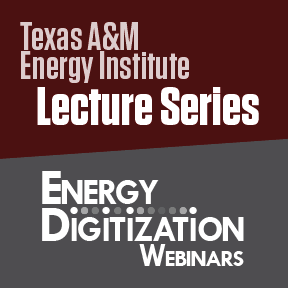 How to aggregate flexibility from Distributed Energy Resources into grid services for renewable integration
The next presentation in the Texas A&M Energy Institute Lecture Series: Energy Digitization Webinars, featuring Dr. Xing Wang, the CTO of Centrica Business Solutions, will be held on Thursday, November 19, 2020, from 3:00 p.m. – 4:00 p.m. CST (GMT -6:00) through an online Zoom meeting. The topic will be "How to aggregate flexibility from Distributed Energy Resources into grid services for renewable integration."
Following Xing Wang's presentation, the webinar will feature a commentary by Dr. Steven L. Puller, a professor in the Department of Economics at Texas A&M University. The webinar will be moderated by Dr. Le Xie, a Professor of Electrical and Computer Engineering at Texas A&M University and the Texas A&M Energy Institute's Assistant Director of Energy Digitization.
Abstract
The global trend of decarbonization and decentralization of energy systems has accelerated the growth of Distributed Energy Resources (DER's). Incentivized mainly by customers' objectives of higher resilience, lower cost, and net-zero targets, the significant penetration of DER's in distribution grids has led to concerns from grid and market operators on how to deal with such a massive number of small resources (vs. much smaller number of large generators).
This webinar will use real-life examples to demonstrate that DER's can provide a positive contribution to grid reliability and market efficiency if they can be modeled and managed through cutting-edge aggregation technology. We will also discuss how to manage the coordination between Transmission and Distribution on the utilization of DER flexibility through a local market mechanism.
Biography
Dr. Xing Wang joined Centrica in July 2016. He is responsible for Centrica's global distributed and low carbon energy technology innovation and product development for Commercial and Industrial customers.
Dr. Wang has over 25 years of experience in technology innovation and engineering management in the energy industry. Prior to Centrica, he was the R&D Director and Head of Application Engineering at GE/Alstom Grid Solutions, where he led the development of software solutions for power grids, oil/ gas pipelines, and energy market operations. He is based in Seattle, WA.