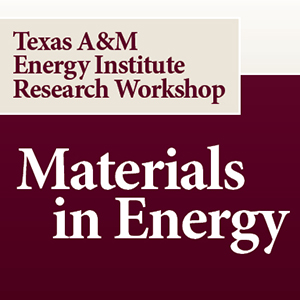 The Texas A&M Energy Institute Research Workshop: Materials in Energy will be held on Wednesday, September 20, 2017 from 9:00 a.m. – 3:30 p.m. in The Commons 109.
For a sustainable future, an inevitable question is: how do we obtain sufficient energy to sustain our society without causing irrevocable damage to the environment. Developments in new energy materials are essential for breakthroughs in efficient energy harvesting, storage, and usage? The objective of this research workshop is to learn about ongoing research directly from a panel of internationally renowned experts in this subject.
Faculty members, students, postdoctoral associates, and staff members are welcome to attend the research workshop.
Schedule
9:00 — 9:15 a.m.
Opening Remarks
9:20 — 10:00 a.m.
Shuai Yuan
Ph.D. Candidate, Texas A&M University
"Metal-Organic Frameworks for Energy Applications"
10:10 — 10:50 a.m.
Dr. Eric Bloch
University of Delaware
"Small Molecule Storage and Activation with Novel Metal-Organic Materials"
11:00 — 11:40 a.m.
Dr. Kurt Swogger
Molecular Rebar Design
"Changing Energy Storage with Individual Carbon Nanotubes Called Molecular Rebar®"
12:00 — 1:00 p.m.
Lunch
1:00 — 2:00 p.m.
Plenary presentation by Dr. Shengqian Ma
University of South Florida
"Advanced Porous Organic Polymers for Sustainable Energy: from Separation to Heterogeneous Catalysis and Beyond"
2:00 – 2:30 p.m.
Coffee Break
2:30 — 3:30 p.m.
Panel Discussion
Shuai Yuan
Dr. Eric Bloch
Dr. Kurt Swogger
Dr. Shengqian Ma
Questions