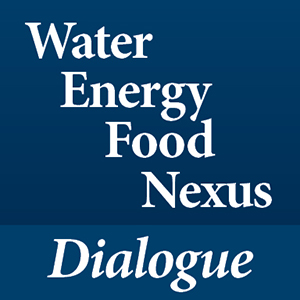 The Texas A&M Energy Institute, in partnership with the Texas A&M University Water-Energy-Food Nexus Initiative and "Water-Energy-Food Nexus: Toward Sustainable Resource Management BAEN/CVEN 642", will host a half-day research workshop at the Memorial Student Center titled, "Water-Energy-Food Nexus Dialogue," on Tuesday, May 9, 2017 from 11:30 a.m. – 5:00 p.m.
Global populations depend on water, food, and energy to survive and thrive. Changes that impact one of these areas can have consequences on another or both of the others. This workshop will discuss the state of the art challenges and opportunities in research and education surrounding this new field of science and policy.
Faculty members, graduate students, postdoctoral associates, and staff members are welcome to attend the research workshop.
Poster Presentations
Poster submissions on WEF Nexus-related topics will be accepted and reviewed before the workshop. The top 20 posters will be invited to be presented at the workshop, with presentations limited to 3 minutes each. The best poster, as judged by a committee, will receive a $500 award.
Tentative Schedule
11:30 a.m. – 12:30 p.m.
Lunch
12:30 – 1:30 p.m.
Keynote Presentation
Dr. Dionysios D. Dionysiou
1:30 – 1:50 p.m.
Overview: Challenges of the WEF Nexus
Dr. Mark Holtzapple
1:50 – 2:50
Panel Discussion
Moderated by Dr. Rabi MohtarPanelists
Dr. Dionysios D. Dionysiou
Dr. Mahmoud El-Halwagi
Dr. Mark Holtzapple
Dr. Stratos Pistikopoulos
2:50 – 3:00 p.m.
Break
3:00 – 4:15 p.m.
Poster Presentations
4:15 – 5:00 p.m.
WEF Summary and Poster Award