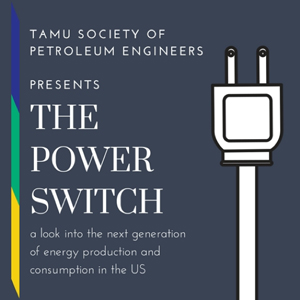 The Texas A&M Society of Petroleum Engineers Outreach Committee is hosting "The Power Switch" on Monday, March 26, 2018 from 6:30 – 8:30 PM in Richardson Petroleum Engineering Building 106 (RICH 106). The event is oriented towards bringing meaningful dialogue about the current trends of energy production and consumption in the United States. Individuals from representative energy industries in the U.S. (oil and gas, solar, and nuclear) will speak to students about what can be seen in the coming years with respect to a wide range of matters that impact the decisions we make for energy projects. This includes, but is not limited to, technological innovation, economics, and policy.
The speakers include:
Scott Nguyen is founder and executive director of 1PlanetSol, an Austin-based non-profit with the mission to expand the benefits of solar to underserved communities using market-based approaches.  Scott is a Harvard trained PhD physicist driven to accelerate our transformation to a cleaner, more efficient energy economy. With over a decade of industry experience at venture-backed start-ups and major corporations, his focus is inventing technology and business models that challenge conventional thinking followed with rigorous execution to bring them to market.  He previously held senior and executive-level roles at Autonomous Marine Systems, Genie Energy, and Shell Oil.
Mark McBurnett is currently the Chief Executive Officer for Nuclear Innovation North America. Prior to this role he was Chief Nuclear Officer for Nuclear Innovation North America and Vice President of Oversight and Regulatory Affairs for STP Nuclear Operating Company and has been responsible for regulatory and oversight activities for STP Units 3&4 beginning with the development of the initial combined license application. Previously he worked at the South Texas Project since 1981 in various leadership roles including licensing, outage and work scheduling, emergency planning, security, quality assurance, risk management and oversight. Prior to coming to the South Texas Project, he was employed by the Tennessee Valley Authority as a licensing engineer for the Sequoyah and Watts Bar plants. Mr. McBurnett is a Registered Professional Engineer in Texas and has Bachelor of Science and Master of Engineering degrees in Nuclear Engineering from Texas A&M University.
Greg Leveille is Chief Technology Officer for ConocoPhillips. During his career, he has held leadership positions in technology, exploration, operations, portfolio management, asset management, project management, and commercial organizations. Leveille is a member of the Executive Committee of the Unconventional Resources Technology Conference (URTeC), serves on the Dean's Advisory Board for the University of Houston's College of Natural Sciences and Mathematics, and has led several United Way fund raising campaigns.