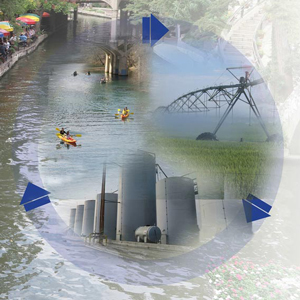 The Water-Energy-Food Nexus Stakeholder Information Sharing and Engagement Workshop will be held at the Texas A&M University-San Antonio campus on January 10, 2018. Participants will receive general information about the Nexus and research activities already underway by the Texas A&M research partners and associates – specifically nexus research that is relevant to San Antonio and the surrounding areas.
Hosted by the Texas A&M University-San Antonio Institute for Water Resources Science and Technology, the workshop will be held in the Vista Room on the Fourth Floor of the Central Academic Building.
Participants will learn details from the lead researchers about six San Antonio case studies now underway and hear about a new National Science Foundation funded Nexus research project that will be centered, in part in the San Antonio area.
The Water-Energy-Food Nexus Initiative has an on-going set of pilot projects focused on supporting the planning for Water-Energy-Food resources in San Antonio and the surrounding region, as climate alters water supplies. This effort has now been underway since October 2015, and we have reached the stage at which we are now ready to engage the Stakeholder community and share outputs of the science accomplished to date.
The workshop will build collaborative processes between Nexus stakeholders in San Antonio and surrounding areas. It is anticipated that every iteration of the dialogue will deepen stakeholder understanding of the shared vision that will ultimately evolve into a set of collaborative actions regarding water, energy and food nexus sustainability research and actions. The lessons and outcomes of the workshop will lay the foundation for extrapolation to elsewhere in Texas and beyond.
To gather key Nexus stakeholders and engage in educational outreach and discussion about ongoing San Antonio Case Study pilot projects, current Nexus programs, and important Nexus-related issues such as existing data and research gaps, particularly as these relate to San Antonio and the South Texas Region, we will:
Inform stakeholders about ongoing and planned Nexus research and educational activities.
Identify possible and desirable information sharing opportunities and actions.
Identify and "test" the concept of a coordinated stakeholder engagement plan for future Nexus-related matters.
Establish an ongoing dialogue between scientists, Nexus-related policy makers, government officials, civil society advocates, and industry leaders.