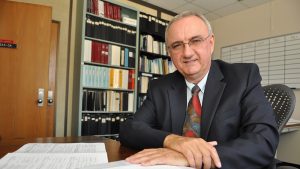 Dr. Mladen Kezunovic, a Texas A&M Energy Institute Faculty Affiliate from the Texas A&M University College of Engineering is among 111 new members and 22 international members recently elected to the National Academy of Engineering (NAE). This honor is among the highest professional distinctions accorded an engineer.

Kezunovic, Regents Professor and Eugene E. Webb Professor in the Department of Electrical and Computer Engineering, was elected for "contributions to automated analysis of power system faults, and leadership in education in protective relaying."

Also elected is Dr. Vijay P. Singh, Distinguished Professor, Regents Professor and Caroline & William N. Lehrer Distinguished Chair in the Department of Biological and Agricultural Engineering, which is jointly administered by the College of Agriculture and Life Sciences and the College of Engineering. Singh is credited with "contributions to wave modeling and development of entropy-based theories of hydrologic processes and hydroclimatic extremes."

Academy membership honors those who have had an outstanding influence on "engineering research, practice or education, including, where appropriate, significant contributions to the engineering literature" and to "the pioneering of new and developing fields of technology, making major advancements in traditional fields of engineering or developing/implementing innovative approaches to engineering education."

"Congratulations to Mladen and Vijay for achieving this recognition," said Dr. John E. Hurtado, interim vice chancellor and dean of engineering. "Each researcher continues to add immeasurable scholarship to the field of engineering, enabling us to attract outstanding students and faculty. This level of excellence is what makes Texas A&M Engineering one of the top-ranked programs in the country."

Kezunovic is the site director of the Power Systems Engineering Research Center, and director of the Power System Control and Protection Lab. His expertise is in protective relaying, automated power system disturbance analysis, computational intelligence and data analytics and smart grids. Before joining Texas A&M in 1986, he worked for Westinghouse Electric Corp. and Energoinvest in Europe.

Among his many honors, Kezunovic was appointed by the U.S. Secretary of Energy to serve two terms on the Electricity Advisory Committee for the Department of Energy. He has been named an Institute of Electrical and Electronic Engineers (IEEE) Life Fellow and a Council on Large Electric Systems (CIGRE) Fellow, honorary member and distinguished member.

He has published more than 600 papers in journals and conference proceedings and has been invited to give more than 140 lectures worldwide. He is also listed as a distinguished speaker of the IEEE Power Engineering Society. While at Texas A&M, he has been the principal investigator on more than 120 research projects and supervised more than 60 graduate students.

The new inductees bring the total U.S. membership to 2,388 and the number of international members to 310. They will be formally inducted during the NAE's annual meeting on Oct. 2.
This article was written by Deana Totzke and first appeared at https://engineering.tamu.edu/news/2022/02/kezunovic-inducted-into-national-academy-of-engineering.html