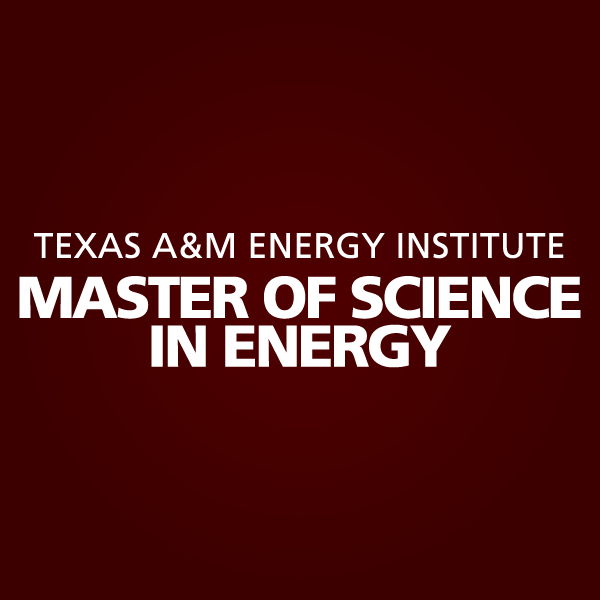 The Texas A&M Energy Institute has announced the establishment of two new interdisciplinary graduate programs in energy at Texas A&M University, the Master of Science in Energy and Certificate in Energy.
The Master of Science in Energy and the Certificate in Energy are designed to introduce students and professionals to a broad spectrum of important energy issues, ranging from energy technologies based on fossil and non-fossil resources, to sustainable energy technologies, as well as their interactions with energy economics, entrepreneurship, law and policy.
"Programs like this simply do not exist outside Texas A&M," said Texas A&M President Michael K. Young. "By bringing together partners from a broad spectrum—including industry, government and public policy arenas—and providing intensive interactions with these graduate students, we are helping create cutting-edge solutions to some of today's most pressing, global challenges related to economic stability, national security and other critical areas."
In just 10 months, students and professionals can earn a Master of Science in Energy on campus or online, in either a thesis or non-thesis track, through modules taught by energy experts from eight colleges and schools at Texas A&M University.
"These programs will offer a holistic view of the entire energy research landscape," states Christodoulos A. Floudas, director of the Texas A&M Energy Institute and the Erle Nye '59 Chair Professor for Engineering Excellence in the Artie McFerrin Department of Chemical Engineering. "Students and professionals will come together to discuss important energy challenges and opportunities, and interact with energy leaders from academia, industry and government. Our students will be the new generation of energy-educated students and professionals, broadly educated on all components of energy in ways that have never been done before."
The professional "Master of Science in Energy" degree will be offered in two tracks. Track 1 will require a research thesis and Track 2 will require only coursework. Track 1 requires 16 modules, thesis and seminars, and results in 32 student credit hours. Track 2 requires 23 modules and seminars, and results in 36.5 student credit hours. This track is offered to researchers or professionals who may be in residence or complete the training online via distance learning.
The Certificate in Energy will be offered by taking 10 modules of the professional Master of Science in Energy degree program either in residence or online.
The in-residence programs will begin in the Fall 2016 semester.
About the Texas A&M Energy Institute
The Texas A&M Energy Institute is a joint institute between Texas A&M University and the Texas A&M Engineering Experiment Station (TEES). The institute engages undergraduate and graduate students, postdoctoral associates, research staff, and faculty members in the study and development of innovative technologies and policies for energy production and energy conservation in the energy transition. Special attention is paid to elucidating the complexity among the interacting components of energy, economics, law, public policy, and the environment.
The institute is the home of innovative educational programs, including the 10-month Master of Science in Energy and graduate-level Certificate in Energy, that target both students and professionals who want to be educated on the high-impact and interdisciplinary facets of the energy research landscape through quantitative analytical methods and multi-scale systems based approaches.
With approximately 290 faculty affiliates from seven colleges and schools at Texas A&M University, more than 35 Texas A&M University departments, two Texas A&M University branch campuses, and five Texas A&M University System member institutions, along with a unique community of more than 450 doctoral students and postdoctoral fellows in the Texas A&M Energy Research Society, cutting-edge solutions are being realized through true interdisciplinary collaborations that will address the complexity and challenges of the world's energy future.