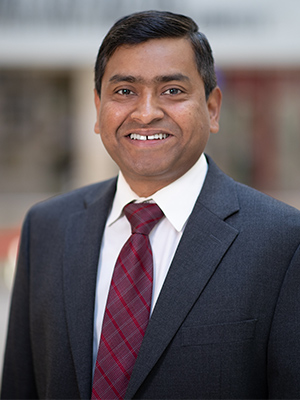 Dr. Faruque Hasan, associate professor and the Kim Tompkins McDivitt '88 and Phillip McDivitt '87 Faculty Fellow in the Artie McFerrin Department of Chemical Engineering at Texas A&M University, has been awarded the 2021 Computing and Systems Technology Division (CAST) Outstanding Young Researcher Award by the American Institute of Chemical Engineers (AIChE). This prestigious award is given to individuals under the age of 40 for outstanding contributions to the chemical engineering computing and systems technology literature. Hasan received this award for his original contributions in the areas of computer-aided process intensification and process synthesis with applications to energy and the environment. The award will be officially presented to him at the AIChE annual meeting in Boston in November.
This award is just the latest of a long line of awards for Hasan. In 2020, he was awarded the National Science Foundation (NSF) Faculty Early Career Development Award to detect and analyze the existence, emergence and role of hidden synergistic effects in complex systems. This research is already bearing fruit as Hasan and his research team have developed a synergistic decision framework for incorporating renewables and flexible carbon capture for decarbonizing the energy sector. Hasan was named to the 2019 Class of Influential Researchers by the journal Industrial & Engineering Chemistry Research. In 2018, he was a finalist in the 2018 World Technology Awards. Also in 2018, a team led by members of Hasan's research group won the annual U-Challenge contest at Texas A&M. In 2017, he was awarded the prestigious American Chemical Society Petroleum Research Fund New Doctoral Investigator Grant aimed at tapping underutilized gas resources. In 2015, Hasan was awarded the Ralph E. Powe Junior Faculty Enhancement Award by the Department of Energy (DOE) Oak Ridge Associated Universities.
Hasan leads a research group that is now being recognized for developing multiscale process systems engineering methods for intensified process design, systems integration, optimization and technoeconomic and lifecycle analysis of sustainable processes and pathways for decarbonizing energy and industrial sectors, resilient energy-water nexus design and sustainable future hydrogen economy. He has also co-developed several patented technologies for CO2 capture and utilization. His research has been externally funded by the NSF, DOE, American Chemical Society Petroleum Research Fund and Oak Ridge Associated Universities.
This article was written by Drew Thompson and first appeared at: https://engineering.tamu.edu/news/2021/06/CHEN-faruque-hasan-receives-2021-outstanding-young-researcher-award.html