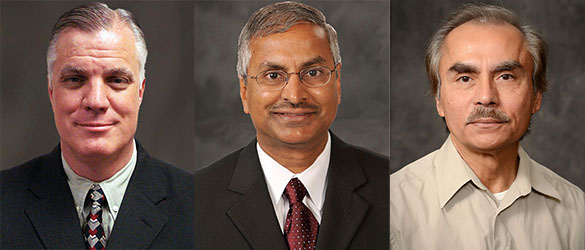 Three Texas A&M Energy Institute Faculty Affiliates have been selected by the Society of Petroleum Engineers (SPE) to receive SPE 2015 International Awards. The awardees are also faculty members in the Harold Vance Department of Petroleum Engineering at Texas A&M University.
Dr. Thomas Blasingame, Dr. Akhil Datta-Gupta and Dr. A. Rashid Hasan will be honored during the SPE's annual reception and banquet on Sept. 29 at the George R. Brown Convention Center in Houston.
The SPE international awards recognize individuals and companies that make significant technical and professional contributions to the petroleum engineering profession and to the worldwide oil and gas industry.
Blasingame, the Robert L. Whiting professor, was awarded Honorary Membership. This is the highest honor SPE presents to an individual and is limited to 0.1 percent of SPE's total membership. This elite group represents individuals who have given outstanding service to SPE or who have demonstrated distinguished scientific or engineering achievements in the fields within the technical scope of SPE.
Datta-Gupta, Regents Professor and holder of the L.F. Peterson Chair, will receive the Distinguished Achievement for Petroleum Engineering Faculty Award. This award recognizes superiority in classroom teaching, excellence in research, significant contributions to the petroleum engineering profession and/or special effectiveness in advising and guiding students. This will be the third year in a row a Texas A&M faculty member has received this award.
Hasan, professor and the Larry A. Cress '76 Faculty Fellow, was named an SPE Distinguished Member. Established in 1983, the Distinguished Member award recognizes SPE members who achieve distinction deemed worthy of special recognition. This award acknowledges members who have attained eminence in the petroleum industry or the academic community, or who have made significant contributions to SPE. Distinguished Membership is restricted to not more than 1 percent of SPE's membership, and is equivalent to Fellow status in other professional societies. Thirty-nine percent of the petroleum engineering faculty at Texas A&M hold this prestigious title.
SPE is the largest individual member organization serving managers, engineers, scientists and other professionals worldwide in the upstream segment of the oil and gas industry, with more than 93,000 professional members and about 50,000 student members worldwide.