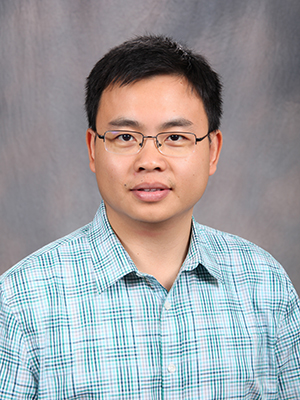 Le Xie, an Associate Professor and Eugene Webb Faculty Fellow in the Department of Electrical and Computer Engineering at Texas A&M University and a Texas A&M Energy Institute faculty affiliate, has been named the recipient of the 2017 IEEE PES Outstanding Young Engineer Award by the Institute of Electrical and Electronics Engineers (IEEE) Power and Energy Society (PES). He was specifically chosen "for outstanding research in power systems analytics and for leadership in big data."
This award recognizes outstanding contributions in the leadership of technical society activities including local and/or transnational PES and other technical societies, leadership in community and humanitarian activities, and evidence of technical competence through significant engineering achievements.
He received a Bachelor of Engineering in electrical engineering from Tsinghua University in 2004, Master of Science in engineering sciences from Harvard in 2005, and Ph.D. in Electrical and Computer Engineering from Carnegie Mellon in 2009. His industry experience includes ISO-New England and Edison Mission Energy Marketing and Trading.
His research interests include modeling and control in data-rich large-scale systems, grid integration of clean energy resources, and electricity markets. Xie received the U.S. National Science Foundation CAREER Award, and DOE Oak Ridge Ralph E. Powe Junior Faculty Enhancement Award. He is a recipient of the Texas A&M Dean of Engineering Excellence Award and the TEES Select Young Fellow. He is an Editor of IEEE Transactions on Smart Grid, and the founding chair of IEEE Power and Energy Society Subcommittee on Big Data & Analytics for Grid Operations. He and his students received the Best Paper awards at North American Power Symposium, IEEE SmartGridComm, and IEEE Texas Power and Energy Conference.
About IEEE PES
IEEE PES is a worldwide, non-profit association of more than 37,000 individuals engaged in the electric power energy industry. The mission of the IEEE Power & Energy Society is to be the leading provider of scientific and engineering information on electric power and energy for the betterment of society, and the preferred professional development source for its members.